Helical Wire inserts are precision manufactured to provide permanent, wear-resistant screw threads that exceed the strength of most parent materials. Inserts are available in non-locking (free running) and self-locking varieties. Special sizes are available to meet your exact specifications and insert needs.
Comply with AS7245 and NASM-8846 for the Standard series and MA1565 for the metric series.
Meet or exceed the Military and Aerospace standards
ISO 9001:2015 certified
See pages 4-25 of the Helical Wire catalog for a complete selection of inserts. Click here.
FIND THE PRODUCT YOU ARE LOOKING FOR
Helical Wire makes it easy to locate the products you require. Our comprehensive database locates the Helical Wire equivalent of other major manufacturer's inserts within seconds. Simply enter an MSA (Military Standard number) or your current provider's part number and a Helical Wire comparable will be displayed. You can also browse the Helical Wire catalog.
Although we maintain a large inventory of commonly used inserts and finishes, we also custom manufacture based on size, material and finish requirements. And, because we understand time is of the essence, our unsurpassed lead times means your custom order will usually ship within two weeks of receipt.
Each and every order fulfilled at Helical Wire is accompanied by comprehensive, complimentary certification. While other companies only provide this documentation when requested, and for a fee, Helical Wire understands OEMs and distributors require documents such as ISO certification and melting source to maintain current files. This certification ships with every order at no additional charge. Click on the samples below for the type of certification you will receive from Helical Wire, Inc. .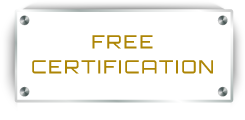 First Article Inspection Report (F.A.I.R)
Helical Wire inserts are available in a variety of plated finishes to accommodate virtually every application. All of the materials used in our manufacturing processes are of the highest standard for strength and durability. Ranging from non-magnetic to heat resistant and anti-corrosive, we have the finish you need to ensure permanent, wear resistant screw threads.